Too many times have I heard: "My business is too small to do that". I have heard this numerous times after delivering what we call an "Awake Session", where we introduce the ExO Attributes. If you are new here the ExO Attributes are shown in the diagram below: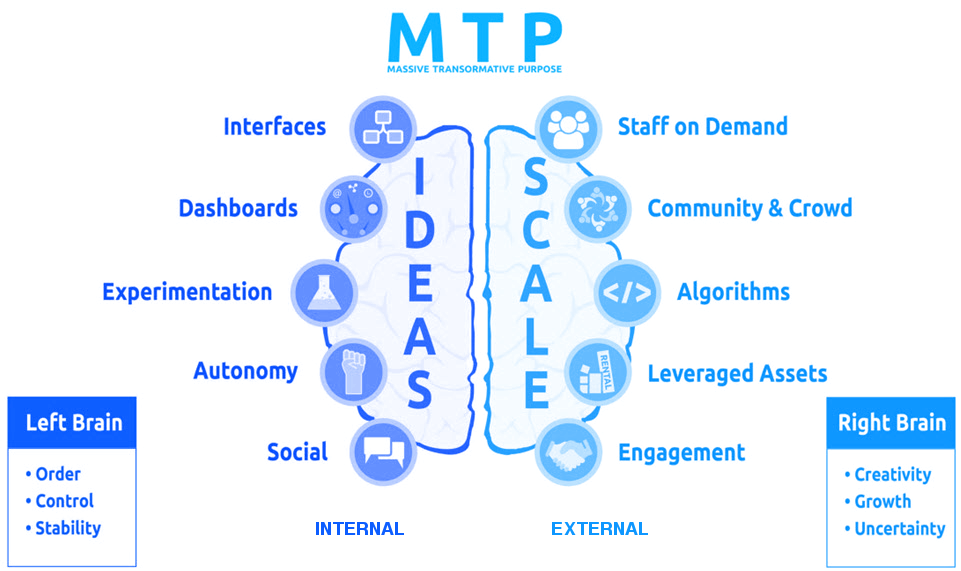 This model which is described in Exponential Organization's outlines 11 attributes that can be leveraged to build a more resilient and 21st century company. The model relies on starting with a Massive Transformative Purpose (MTP) and then 5 External and 5 Internal attributes. You can learn more through the OpenExO complementary Foundations Certification.
So why do many small businesses say that they are too small to implement the attributes?
I believe that this is in part that many people are not aware of the multitude of tools that are available online as well as the fact that change is difficult. In a business that is just making it from month to month the idea of making what seems like a strategy change is daunting. I do understand this but in reality these concerns are a little unfounded. The Model does not look to change your business model but rather to augment it.
Having said that we do believe that you need to have an MTP and putting this together can take time if as a business you have never thought about your purpose beyond making money. As a business owner you should start with your personal purpose and build from there. You may run a corner store with an MTP of "building inclusive communities". This purpose would then inform how you run your business from how you hire, what you stock and how you interact with customers. Your MTP gives your business a north star and guidance on how to leverage the Attributes.
In our corner store example, the business could build a community of customers that also believe in inclusive communities and in doing so draw in more customers that resonate with this. The corner store could embrace technology through algorithms to determine what customers want in the store, there are online tools to help with this. Internally the store could run experiments to improve profitability and grow the customer base. More autonomy could boost the employee moral and result in better customer service and therefore greater retention and sales.
The ExO Model can be leveraged by small businesses. There are no excuses start today!
---
The World Bank estimates that 90% of businesses globally are considered SME's and they contribute to at least 50% of employment. Given that SMEs have been the most impacted sector as a result of COVID-19, it is critical to provide guidance, thought leadership, and real tools that can not only help them survive 2020 but thrive in the future.
It is for this reason that we have partnered with HealRWorld to bring you ExO World: Small Business Summit. The International Finance Corporations' (IFC's) SME Finance Forum and the International Chamber of Commerce are supporting this unique digital event that will also feature prominent speakers such as:
Paul Polman, Salim Ismail, Michele Bongiovanni, Leslie Short, John Denton, Matthew Gamser, Anakha Coman, Sonal Shah, David Apgar.. and many others from both the OpenExO and HealRWorld communities.
This is the perfect opportunity for every small business to help overcome the many hurdles that they are currently facing with new tools, guidance, access to capital, and thought leadership advice to survive and thrive. We look forward to welcoming you to ExO World: Small Business Summit.